The 2021 Subaru Love Promise Community Commitment Award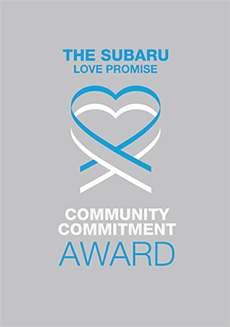 We've been nationally recognized for our dedication to our community and the Subaru Love Promise.
We're honored to receive the 2021 Subaru Love Promise Community Commitment Award. This award nationally recognizes Subaru retailers who are making the world a better place while demonstrating an outstanding commitment to supporting passions and causes in local communities. These efforts are focused in important areas such as the environment, community, health, education, and pets.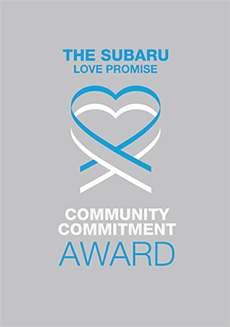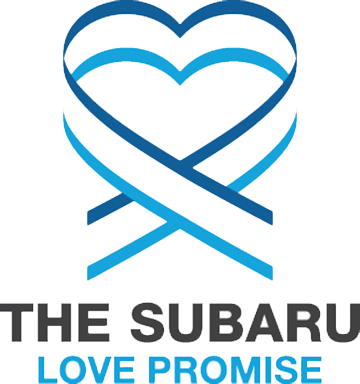 What is the Subaru Love Promise?
Subaru and our retailers believe in making the world a better place and the Subaru Love Promise is our vision of respecting all people. This is our commitment to show love and respect to our customers and to work to make a positive impact in the world.
How is Long Subaru dedicated locally to the Love Promise?
Our Love Promise can be seen in various partnerships with local charities and non-profits. We're grateful for the opportunity, not only to be a part of our community, but to serve it as well.
No Mutts Left Behind, Inc., Community Cat Connection, Second Chance Animals, Sophie's Mission, Big Hair Animal Rescue, YGRR, and more!
Adopt A Highway Litter Removal Service of America, TerraCycle Zero Waste Program, The Last Green Valley, and more!
Webster Public Schools, Dudley-Charlton Education Foundation, Webster Education Foundation, Shepherd Hill Music Assoc., and more!
Webster Dudley Food Share Inc., Boys & Girls Club of Webster Dudley, Fresh Start Furniture Bank, New Hope, Inc., Veterans Inc., Audio Journal, and more!
MS Challenge Walk , Deary Memorial Cancer Fund, The Cancer Center at Harrington, Tri-Valley Nutrition Program, Pan-Mass Challenge, LOF Adaptive Skiers, and more!
Love Promise Stories from Long Subaru
Subaru and Long Subaru believe in making a positive impact on the communities in which we live and work. We uphold that belief through our Love Promise Community Commitment. Every month, we select inspiring stories from customers and partners from around our area who strive to support our collective commitment and feature them here
Love-A-Pet event - Kera F
Long Suburu has always gone above and beyond to help No Mutts Left Behind with donations and adoptions! We participate in the Love-A-Pet event yearly and it is always one of our best events for finding adopters. The preparation and help with the event itself as well as accepting donations of food, collars, leashes, treats, etc. on our behalf leading up to the event is always superior. Communication back and forth with Sara has always been consistent and timely. We appreciate all you do for us to help find the perfect homes for our adoptable dogs!
---
Park Avenue Elementary Gift - Maryland S
Thank you so much for the extremely generous donation! At this young age, many of the children require alternative seating that allows for movement in order to attend. I am so excited to have been able to purchase wiggle stools, carpet cushions and some other sensory 'tools' as well as a Cricut machine that I can make different learning materials with. Again, thank you, thank you! – Maryland Sheridan, Kindergarten Teacher at Park Avenue Elementary
---
"Any Disability, Any Age" adaptive ski event - Nick C
2020 was a difficult year for most, but sometimes that's just when something wonderful is created. Webster Water Ski Collective was able to do just that during the inaugural "Any Disability, Any Age" adaptive ski event. This year the event was expanded with the continued support of sponsors including Long Subaru. Special adaptive equipment along with skilled volunteers allow the action-packed, fun-filled sport of water skiing to open up to individuals with disabilities. Skiers came from across Massachusetts and Rhode Island at the event held at Webster Lake in June 2021. Nick Cioffi, Master Subaru Technician at Long Subaru and Webster Water Ski Vice President explains "We love sharing and growing our sport. This event allows us to share the sport we love with people who otherwise may never be able to enjoy it the way we do. It's a great experience and very rewarding for everyone involved." "We look forward to seeing and supporting Nick in his other element, on skis and working within our community," said Scott Barry, Long Subaru Dealer Principal. "We are happy to contribute to those who would not otherwise be able to feel the thrill of watersports" Long Subaru is looking forward to continuing to support Nick and the Webster Water Ski Collective's August 2021 adaptive ski event.
---
Long Subaru Shares the Love with BGCWD - Liz H
Long Subaru is always happy to support the local Boys & Girls Club of Webster Dudley (BGCWD). Their annual Share the Love event that ran from Nov. 19, 2020 to Jan. 4, 2021 resulted in a combined donation of $20,000 this year to hometown charity, Boys & Girls Club of Webster - Dudley. "We are grateful for Long Subaru's investment in our Club and kids," explains Liz Hamilton, BGCWD Interim Executive Director. "Their support will help ensure our kids have a safe, fun and enriching summer, including providing the resources they need to prepare for the school year in the fall. We are fortunate to have Long Subaru as a member of our community."
---
Truly helping leave no mutts behind! - Kera F
No Mutts Left Behind Inc. dog rescue has had the pleasure of partnering with Long Subaru over the past year. Even with Covid precautions, Sara Brunell has helped organize adoption events and fundraisers for us. When we arrive with rescue dogs at adoption events, we are greeted by the entire Long Subaru staff (We have even helped find staff and their families rescue dogs of their own!). Long understands how much live adoption events help us find dogs forever homes. Through social media and sharing of the event, there is always a steady turn out and our dogs go home tired from all of the attention. This past adoption event in October, we were able to find forever homes with four adopters who met their dogs at the event. Sara and the Long staff are always so accommodating and welcoming. We are so thankful to have such wonderful partners in the rescue world.
---
Hank's Story - Pam Nick Matt and Hank C
Mr. Barry and Subaru, first of all, I want to say buying our first Subaru from you all was a delight. After being in a Subaru, I do not know how I will ever go back to anything else. When I needed a car, my husband and I shopped around. I had not really even thought of Subaru, until I saw your Share The Love commercial and looked into what Subaru gives back- I was sold. You see, we were still reeling from the loss of two precious family pets and your commercial celebrating shelter animals and rescue dogs melted my heart and hit close to home. I did not know how close it would actually come. About a year after buying my Impreza, we stumbled upon a dog in a local rescue. This dog, being shattered and broken, body, mind, and soul, traveled 1,200 miles into Big Hair Animal Rescue (BHAR) in Sturbridge Massachusetts. A friend sent me his picture when he arrived in the rescue and it was instant. The look in his eyes drew me in and I knew he was our dog, despite that he was not the best looking dog. Hank was found in Ola Arkansas in a flood area. Calls came in about a stray dog on highway 141 but the rescue could not find him. They kept going back and one day his little head popped out of the weeds and his journey in healing began. Hank was emancipated, had mange, and smelled horribly from all the skin, ear and eye infections that were overcoming him. Jess, the owner of BHAR, worked with us as we adopted Hank and she continued to provide medical care and take care of his medical expenses. It has been a year since we took Hank into our lives and family. In that year we healed as he did, but it was marked by lots of hardships with Hank's health. He has been consistently sick, and we could not get answers. Not until just a month and a half ago. Hank was rushed into the ER bleeding from his nose and with a nearly fatal temperature. With no answers still, he was discharged back to our care with plans to see our regular vet. It was then our hearts shattered at what was revealed. Our vet decided to think outside the box and X-Ray Hanks head and there the answer lay waiting to be discovered. Hank has been shot in the head in his previous life, most likely as a young puppy and dumped for dead. Hank is a fighter and a survivor and miraculously lived. Hank is the underdog Subaru supports... Subaru has ambassadors but maybe Subaru needs an ambassadog ... a champion and voice for all those that need one. Hank shows that love can change the world. Despite feeling pain and seeing the worse, he still loves and trusts people. His message is one of hope and love, and right now it is what the world needs- hope and love. He just needed a chance and a rescue gave him his ticket to his furever home. We saw Long Subaru was promoting #SubaruLovesPets month and wanted to share our story with you. After we contacted you, you invited us in for a visit and surprised us with some gifts for Hank and Subaru paw print face masks for us! Hank looks so handsome in his new Subaru bandanna, but he loved all the staffs' attention and pets even more. We were also happy to accept a donation of $250 to support Big Hair Animal Rescue. We are looking forward to attending the next Long Subaru Love-a-Pet Event along with BHAR and sharing Hank's incredible journey, and the work BHAR does with even more Subaru owners. - the Cody family
---
Making Wishes Come True - Josh B
Long Subaru was happy to support Master Subaru Tech, Josh Bettencourt, in this year's 48hrs of Tristate charity drive. Josh's annual group drive included about 1,700 miles of driving spread over 3 days, January 16th-19th, to raise funds for Make-a-Wish. "Wish kids are some of the bravest and sweetest kids you'll ever know. They wish to work in a pickle factory, become a superhero, go snorkeling, give their baseball team new uniforms, and push all of the buttons in a tall building's elevator. Their innocence and unexpected wisdom stays with you," Josh explained. "I'm fundraising so more deserving kids and their families can know the happiness, relief and renewal a wish can bring." Josh took the trip this year in his awesome 2001 Subaru Forester with over 300,000 miles and still going strong. Josh was able to exceed his $400 fundraising goal for a total of $1200 raised this trip. "We're proud to have Josh on our team and to support his travels," said Scott Barry, Long Subaru Dealer Principal. "Josh's fundraising efforts and his willingness to share his experiences with us has been of great interest to our customers as well as the rest of our team here at the dealership."
---
Helping out local vocational school - Paul P
My name is Mr Perreault an Auto tech instructor at Blackstone valley tech located in Upton Ma. I would like to share this story with you about how Long Subaru and service manager John Costa who is a BVT alumni went over and above helping out my students that had won the state championship for Auto tech diagnostic challenge. After winning the state contest we started to prepare for the nation contest located in New York city and was in need of a newer model Subaru to practice on, so I reached out to Mr. Costa and he made sure we had a brand new car delivered to my school to practice on for a couple of weeks. The help this provided my students truly made a difference with getting the students prepared to understand the new electronics in a modern Subaru.
---
Child Life Project by Allison - Allison D
Currently, a Junior at Shepherd Hill Regional High School and National Tri-M Music Honors Society member Allison Donais is a bright, determined student who is donating her time and talents to help pediatric patients. This April Allison chose to work with Umass Memorial Medical Centers Child Life Program to educate children on the pediatric floor about the importance of different musical instruments, as well as arranging for a small performance to put smiles on their faces. To help these children have a more enjoyable, comfortable stay Allison also collected donations to fulfill the patients' wish list. Alison contacted Long Subaru to request them to be a drop off location. "I knew of Long Subaru from growing up in the area and how they are always happy to work with the community, especially when it is a project benefitting kids," explained Allison. An attractive donation box designed by Allison was displayed along with the dealership's 'Subaru Loves to Help' logo in the Long Subaru customer lounge for two weeks. Donated items from the dealership, employees, and customers included card games, Play-Doh sets, arts & crafts supplies, and Matchbox cars. Allison's project earned much praise and thanks from the Child Life Program UMass Memorial Children's Medical Center who complimented her and her fellow musicians "for their musical gifts, their professionalism, and their generosity." "It was a pleasure to work along with Allison on such a worthwhile project," added Sara Brunell, Long Subaru Marketing Director. "We were excited that she reached out to us as a collection point, happy to share this with our customers and always pleased to work with one of our local students."Thank you so much to everyone who donated time and items to this project, which means so much to me and my family and the kids in the hospital," said Allison.
---
Outstanding - George F
I was in the Price Chopper parking lot ready to go home and the unlock button did not work. I called your Department and talked to Steve. He asked me to try to see if the start button worked and I did and it did. I told him that it was 7° out and what are my options. He immediately said don't worry I will send someone out to help you. He asked where I was located and I said in the first handicapped spot. Within minutes one of your technicians showed up and resolved all issues. I consider your service as outstanding and wanted you to know that.
---