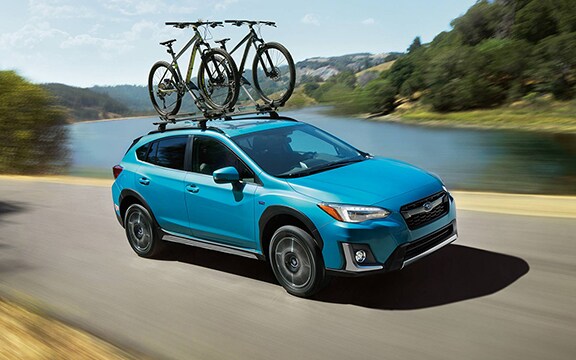 Subaru Crosstrek Hybrid
The Most Fuel Efficient Vehicle in It's Class

Introducing the most fuel efficient Subaru model yet: the 2019 Crosstrek Hybrid. Using a combination of electric and gas, the Crosstrek Hybrid guarantees excellent performance and fuel efficiency.

How fuel efficient is the 2019 Crosstrek Hybrid? This vehicle is estimated a full 90 mpg electric, and up to 480 miles total range. Because of the combination of gas and electricity, the 2019 Crosstrek Hybrid is estimated to save owners up to $350 in fuel savings per year.

The Crosstrek Hybrid uses Stardrive technology to provide the best combination of electric and gas power, and recovers energy via regenerative braking. This vehicle will automatically drive electric as much as possible to save gas, and also includes a battery saving mode option, which uses the gas engine to charge the battery. The battery save mode adds four miles of electric range for every 30 minutes of driving.

Manage charging times from home with the Mysubaru app to guarantee an appropriate charging time.
Not only is this vehicle fuel efficient, the Crosstrek Hybrid also guarantees safety for the whole family. With assets such as pre collision braking, adaptive cruise control, lane keep assist, as well as blind spot protection and much more; daily commutes promise safety.

The Crosstrek Hybrid is always ready for its next destination. With 8.7 inches of ground clearance, this vehicle is perfect for off road adventures. To help on your adventure, this compact SUV has symmetrical AWD, X-mode with hill descent control, and pre-collision throttle management. The Crosstrek can also tow up to 1,000 lbs, perfect for anything you need to take along to make your adventure possible.

With 100.7 cubic feet for passenger volume, this compact SUV can fit the whole family. The vehicle also includes 60/40-Split Fold-Down Rear Seats to add more fun to your Crosstrek.

Interior features include Subaru STARLINK multimedia with apple carplay and android audio, a built in charge finder app to locate drivers to the nearest charging station, a wi-fi hotspot with 4G LTE connection, as well as remote climate control that allows users to set the perfect temperature before stepping foot in the vehicle.

Voted the most trusted brand for four years by Kelley Blue Book, the Subaru Crosstrek Hybrid gives drivers the assurance of safety, fuel efficiency, and adventure.