Things To Do in Your Long Subaru - Peabody Essex Museum
Explore the creativity of footwear from around the globe through more than 300 pairs of shoes, ranging from elaborate vintage designs to those by contemporary makers. On view now thru March 12, 2017 at the Peabody Essex Museum.
" IF YOUR HAIR IS DONE PROPERLY AND YOU'RE WEARING GOOD SHOES, YOU CAN GET AWAY WITH ANYTHING "
Shoes communicate power and aspiration as the dual facets of status. Examples from famous shoe collectors are shown alongside a dazzling range of historic shoes, many of which have not been displayed before. The exhibition is organized by the Victoria and Albert Museum, London.

Above: Jimmy Choo's "Lovebird" 2013 (left), Sandy Powell for Atelier Swarovski "Glass Slipper from Cinderella" 2015 (center), Gundry and Sons silk shoes worn by Queen Victoria 1840-48
"Our feet are what ground us and help us move through the world," says Lynda Roscoe Hartigan, PEM's James B. and Mary Lou Hawkes Deputy Director and coordinating curator for the exhibition. "The shoes that we choose for walking are not just about protecting our feet. They project our mood, our identity and our place in the world. By altering stature, posture and gait, shoes signal to the world how you feel about yourself and want to be perceived by others."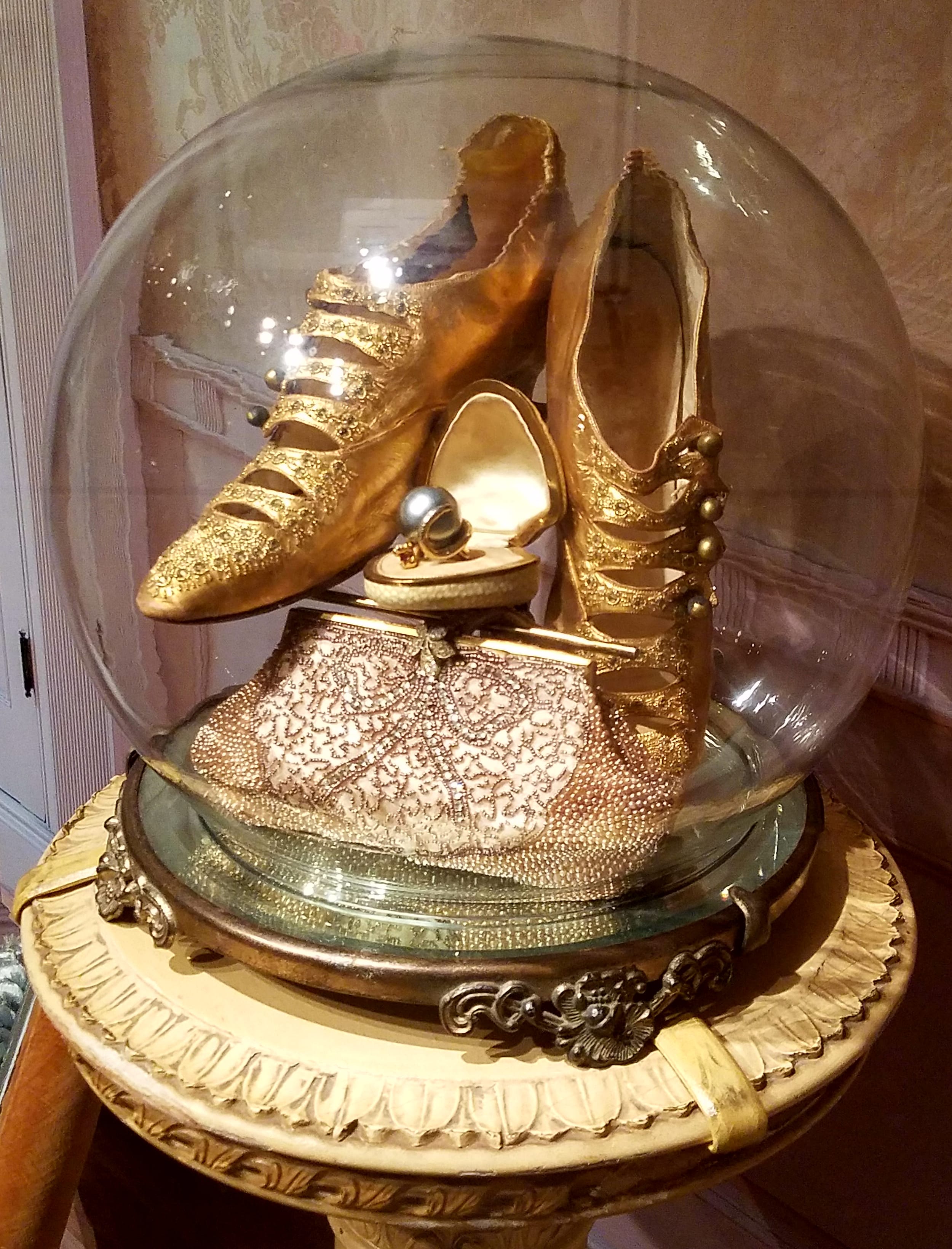 Where else would you find the iconic ballet slippers from 1948's The Red Shoes lovingly displayed alongside the glass slippers designed by Swarovski for Disney's Cinderella (2015).
TO MAKE A SHOE IS TO FUSE
FUNCTION WITH DESIGN.

Our favorite display features leather, metal, and glass slippers made in Lynn, MA by the Sorosis, A.E. Little Company circa 1905 (shown at left). What will be your favorite? You'll just have to go and see!
When you go...
Breakfast being the most important meal of the day, you'll want to fill up before checking out the exhibits. The
Ugly Mug Diner
is an easy walk in fine weather, or you can drive by and hope for a spot right in front on the door (it worked for us). 'A foodie haven, not a greasy spoon', the Ugly Mug offers a long selection of Eggs Benedict variations, Scotch Eggs, and every coffee guaranteed to be served in an ugly mug.
Make time for shopping at
The Village Silversmith
,
Pamplemousse
, and
Modern Millie's
.
Things to know...
Two parking garages offer easy off street parking at $ .25/hour (as of 12/2016)
The street around the museum is pedestrian only offering easy access to the shops in the area.
There is a harbor walk that allows you to take in beautiful ocean views.
Fun Facts...
During the run of Shoes: Pleasure and Pain, the PEM Shop will be transformed into a shoe emporium, featuring more than 80 shoe designs for men and women, representing 20 designers from 15 different countries – from Italy and Germany to Pakistan and Colombia – including several designs commissioned exclusively for the store.
Yin Yu Tang, a 200-year-old Chinese house, was brought to America and reassembled at the Peabody Essex Museum.
...
Would you like your favorite things to do in your Long Subaru featured here?
Contact Sara at sbrunell@longauto.com