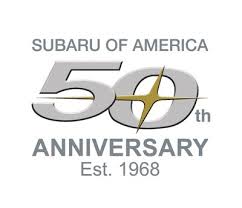 Subaru today announced its year of 50th celebrations, leading up to its 50th anniversary on February 15, 2018. In keeping with a company known for supporting good causes, the automaker is marking its 50th anniversary with a special donation of "50 cars for 50 years" to benefit a national charity to be announced at a later date.
Throughout the year, Subaru will also host a number of celebratory events, culminating in a series of special edition model vehicles that will debut in early 2018. Further details on all programs will be announced in due course.
Company History:
The company was founded on February 15, 1968 by two American businessmen: Malcolm Bricklin and Harvey Lamm. In 1965 Malcolm Bricklin was selling franchises for motor scooters that included the Fuji Rabbit and the tiny Subaru 360. Bricklin then formed Subaru of America, Inc. (SOA) in order to sell Subaru franchises with Harvey Lamm, who at that time, was working in his family's furniture store in Philadelphia. From 1967 to 1990, Lamm served as chairman of the board, chief executive officer, president and chief operating officer of Subaru of America, Inc.
The very first Subaru 'office' was in fact a small rental unit in Balboa Park, California, which Lamm set-up in 1967. The following year, Subaru of America was officially established in Bala Cynwyd, Pennsylvania before moving to larger quarters in Pennsauken, New Jersey in 1970. The headquarters moved to its current Cherry Hill, New Jersey location in October 1986. SOA is currently developing a new headquarters complex in Camden, New Jersey, which is expected to open in early 2018.
In the early years, Bricklin and Lamm's business model was to sell distributor franchises to investors across the country, resulting in a total of 13 distributors nationwide. In subsequent years, SOA bought out most of the original distributors, with the exceptions of Subaru of New England (SNE) and Subaru Distribution Corp. (SDC) which covers NY and parts of NJ.
On August 31, 1990, Fuji Heavy Industries (FHI) acquired Subaru of America through a $6 per share cash offer. FHI had already purchased just under half of SOA stock from prior investments.